Spring is in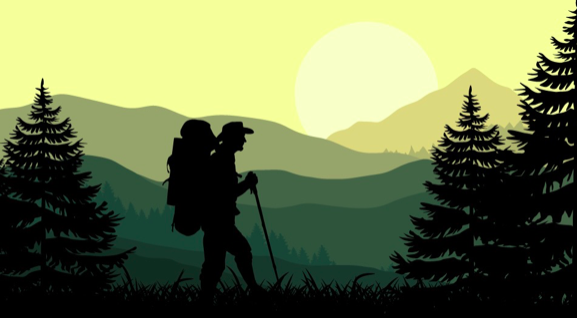 the air, summer is just around the corner, and it's time to enjoy the great outdoors. People can't wait for the snow to melt to start their outdoor adventures. Most like to go hiking on the trails, backpacking the mountain, horn hunting, or spend a day at Yellowstone National Park. Recent studies have shown an increase in walking, hiking, and backpacking in the summer months but along with outdoor adventures comes injuries.
One study showed that most of the injuries sustained at Yellowstone National Park happen during the summer months when individuals were walking, hiking, or backpacking. The statistics show that 78% of the 192 injuries that occur during the summer months were soft tissue injuries which include sprains, strains, abrasions, and lacerations, and only 8.8% were fractures or dislocations. The lower extremities (legs) were most often injured (36.6%), followed by the arm (27.0%) and the head (20.6%). The average age of the persons injured was between 35.6 and 40.9, and primarily males (58-64.3%).
A second study showed injuries of long distance hikers on the Pacific Crest Trail and Appalachian Trail sustained more injuries to the foot and knee. Most common injuries are rolled ankles, twisted knees, torn muscles, back pain, and much more. Walkers and hikers who walk too much develop IT band syndrome, patellar tendonitis, and/or bursitis. Falls and injuries occur most often when hikers are descending on the trail. Wet rocks, loose rocks, and leaves are main contributors to these injuries.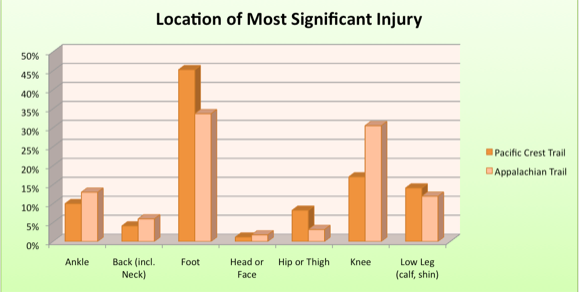 The healing times of most injuries depend on the severity of the injury. Some injuries healed over time but some injuries never got better with rest. Most commonly the knee, hip/thigh, foot, and back did not get better over time. This is where your local physical therapists can help with injuries that can occur on your hikes.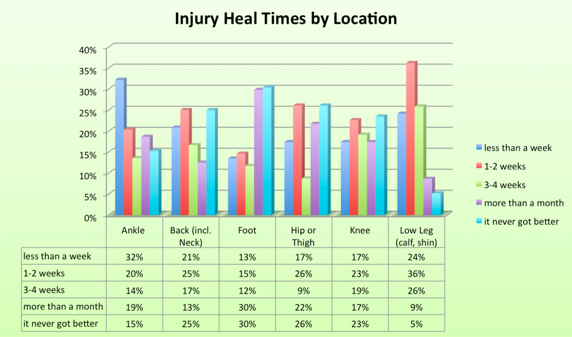 If you do get injured on walk or hike, here are some steps to take:
Rest is important for a full recovery.
Ice is good for reducing swelling, as well as reducing pain. Ice for 10-20 minutes at a time.
Compression with elastic bandage (Ace wrap) decrease swelling. Don't wrap too tightly.
Elevate injury above your heart to reduce swelling. Can perform along with icing.
Talk to your doctor/physical therapist. To reduce the chance of re-injury there needs to be an accurate diagnosis of the injury.
Physical therapy can help reduce pain and swelling, increase strength, improve on walking and hiking mechanics, improve stability and balance, increase endurance, stair abilities, and much more.
In the state of Wyoming, most insurance companies will allow you to see a physical therapist without a physician referral.
Prevention tips:
Wear appropriate hiking boots with ankle protection or shoes with good traction.
Wear long sleeves and pants to prevent abrasions and lacerations. Keep an eye on skin injuries to avoid infection.
Muscle cramping commonly happens due to dehydration. Drink plenty of water. To prevent muscle cramping, stretch before you hike!
For stretches to perform before your hike visit the website below:
http://seattlebackpackersmagazine.com/7-stretches-for-hiking-success/
References:
Cole K. Hiking Knee Injury. Hiking Knee Injury | Trails.com. http://www.trails.com/facts_39374_hiking-knee-injury.html. Accessed March 23, 2017.
Common Walking and Hiking Injuries. http://2toms.com. http://www.2toms.com/dwkb/common-walking-and-hiking-injuries/. Accessed March 23, 2017.
How to Prevent 10 Common Hiking Injuries. The Clymb. http://blog.theclymb.com/tips/prevent-10-common-hiking-injuries/. Published July 27, 2015. Accessed April 8, 2017.
Johnson RM, Huettl B, Kocsis V, Chan SB, Kordick MF. Injuries sustained at Yellowstone National Park requiring emergency medical system activation. Wilderness Environ Med. 2007;18(3):186-9.
Long Distance Hiking Injuries, Part 1. Distancehiking. http://distancehiking.com/safety/injuries1/. Published June 20, 2015. Accessed March 23, 2017.
Picture: https://www.bhphotovideo.com/explora/outdoors/tips-and-solutions/take-hike-beginner%E2%80%99s-guide-walking-woods