What to Expect at Your First Visit for Physical Therapy
Your first physical therapy visit will usually last 45-60 minutes and will include a thorough physical therapy evaluation that includes an interview about your particular problem and how it is affecting your abilities, a clinical examination, a discussion of the physical therapy plan, and, possibly, initial treatment interventions.
You should arrive 15-20 minutes early for your first appointment to complete paperwork or 5-10 minutes early if you have complete paperwork provided to you on this website. You will need to bring photo identification and your insurance cards if applicable.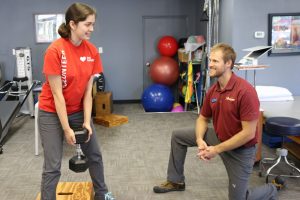 PLEASE PRINT AND FILL OUT BEFORE VISITING Advantage Rehab.
Access your home exercise program through our Patient Portal
Learn more about common problems and treatments.
Find more information on physical therapy and what it can do for you by reading stories, watching videos or listening to podcasts at the American Physical Therapy Association website.
Ask Advantage Rehab